SolidWorks is a comprehensive 3D modelling software, with features to create 2D drawings, 3D models, and parts for manufacture, as well as a range of other features to aid in product design. 
SolidWorks can seem intimidating at first, as the complexity of modelling that is possible may seem impossible to the beginner. 
As a general rule, SolidWorks is easy to learn if you take a structured approach to learning. Start by modelling 3D simple shapes and build on this to create more complex shapes. With lots of online video tutorials, it is possible to self-learn SolidWorks.
I learned SolidWorks through my first job as a Mechanical Design Engineer. In total, it took me 15 days of modelling every day for 7 hours in order to get to a proficiency level to complete simple 2D drawings and 3D models for manufacture.
My early models and drawings were very poor. However, they were good enough to build a foundation in the software and get products made. 
In this article I will help you understand the difficulty level in learning SolidWorks and what challenges you will face, covering:
Is SolidWorks hard to learn?
How long will it take to learn SolidWorks?
Can I learn SolidWorks on my own?
Is SolidWorks harder than AutoCAD?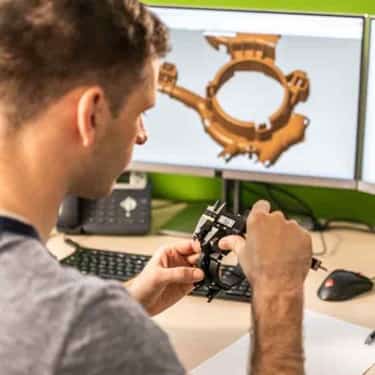 Is SolidWorks Hard To Learn?
SolidWorks is not difficult to learn, however many new students can find it hard as it can be overwhelming at first. 
From my many years of experience working as a Design Engineer in the field, I have found that those who struggle, try to move ahead too fast, or model complex geometry too soon.
In the early stages of learning SolidWorks, keep it simple. Start by knowing how to create and save a file and model a simple shape.
For example, start by trying to model a cube. Set the dimensions of the cube to whatever size you desire. This simple shape will act as a good starting point. 
From this simple shape, try to cut a hole into the cube or add a smaller cube. This will allow you to understand how a simple object moves in space, how you can draw sketches on planes, and how to constrain your sketches and models fully. 
When you can model a simple shape, try to make a drawing from it. Again, as the shape is simple, you should be able to add dimensions easily. 
Finally, when you have completed some simple shapes and corresponding 2D drawings, I recommend you try to assemble them together. 
In the world of design engineering, particularly in the industry of mechanical engineering, creating assemblies of parts is how we build up models.
If you think about a car engine, for example, a CAD operator will not model all the parts in one file; they model each individual part separately and then import these single parts into an assembly file where the parts can be virtually assembled.
This is a fantastic way to see that your designed parts fit together correctly without interference. 
In addition, using assemblies of parts allows us to identify any assembly issues that someone might encounter in reality. 
For example, I worked with an engineer once who designed a part to sit inside another part. It all looked good as separate parts, but when assembled in CAD, he quickly spotted that he did not have an opening wide enough to fit the parts together. Identifying this mistake in CAD saved lots of money and time. 
In summary, by working through the SolidWorks CAD package in bite-size and simple chunks, modelling simple parts and geometry, you will find SolidWorks easy to work with.
Once you get a grip on these fundamentals, you can experiment and model more challenging geometry. 
How Long Will It Take To Learn SolidWorks?
Although we all learn at different rates, I have found that most students can get good at SolidWorks with a basic level of understanding after 15 days, with an average of 4 hours of modelling a day. 
When working with new employees, I have found that after three working weeks of using SolidWorks daily, they can produce basic 3D models and parts for production. 
From this point, they know the software well enough to work alone and explore the help files to find solutions to problems. 
From my experience of working in the design industry with SolidWorks, here is how long it takes to learn SolidWorks on average
Day 1: Basic understanding of creating and saving a file.
Day 5: Basic understanding of creating a simple 3D model.
Day 15: Good understanding of the basics. Most students can open, create and save a file with simple geometry, including a simple 2D drawing.
Month 1: Good level of proficiency. Most students can produce simple mechanical part models and drawings for manufacturers.
Month 6: Very good level of proficiency. Most students can create relatively complex geometry from scratch and complex mechanical parts for production.
Year 1: Excellent level of understanding. By this point, students can create complex geometry and will have explored many of the additional tools within SolidWorks such as assembly interference checking, draft analysis, sheet metal and more.
To learn more about progressing quickly with CAD and if it is hard to learn, I cover this in much greater detail in this article, "Is CAD Hard To Learn? (And what to expect)"
Can You Learn SolidWorks In A Day?
Is it possible to learn SolidWorks in a day? Here is what I believe you can achieve with 8 hours of learning SolidWorks:
Open and create a 3D model file.
Draw a simple sketch
Extrude to create a simple shape
Learn how to create a centreline, circle, and rectangular shapes.
Create simple cut features
Modify a sketch
Constrain a sketch
If you get through the above tasks through a good training tutorial, you will know the basics and be able to navigate SolidWorks
You will be far from an expert, and simple errors may cause you problems, as you do not have the knowledge of the solution. However, you can get a basic understanding of the software in about 8 hours. 
Can I Learn SolidWorks On My Own?
Learning SolidWorks on your own is possible, as there are many free training resources, including examples from the SolidWorks manual and plenty of video tutorials on YouTube.
If you plan to teach yourself SolidWorks, I recommend you follow a simple beginner course on YouTube or Udemy. This will help to keep some structure to your learning so that you will not get overwhelmed.
The advantage of following an experienced engineering expert on YouTube is that you can benefit from their experience and see how a professional engineer uses the software. 
Don't forget that the manual is your friend. As boring as this may sound, the manual can help you find solutions to your problems. 
Is SolidWorks Harder Than AutoCAD?
I have used both SolidWorks and AutoCAD in a professional capacity.
Many beginners find AutoCAD easier. However, there is little difference in the difficulty level. Once you are familiar with one type of CAD package, they all become much easier to learn. 
As a general rule, AutoCAD has always led the market with 2D drawings. This makes the software a market leader in the architecture and structural engineering industries 
SolidWorks is the preferred option in the mechanical design engineering industries, as it has great 3D modelling capabilities. 
Although both AutoCAD and SolidWorks have 2D drawing and 3D modelling capabilities, AutoCAD leads the field in 2D drawing and SolidWorks leads the field in 3D modelling.
Although AutoCAD may seem easier at first, both SolidWorks and AutoCAD are comparable in difficulty, and neither one is particularly harder to learn than the other.  
To learn more about how SolidWorks compares to Siemens NX, I have covered this in much greater detail in this article, "Is SolidWorks Or Siemens NX Better? (I have used both)"'
Final Thoughts
SolidWorks is a powerful 3D CAD software that can be used for a variety of engineering and design applications. It may seem difficult to learn at first, but with the right training resources, it is possible to get up to speed fairly quickly.
The important thing is not to get overwhelmed and to take things one step at a time. There are many free tutorials available online, as well as an extensive manual that you can access from within the software.
With a little practice, you will create complex 3D models and drawings that can be used for manufacturing or production purposes.